Jaisalmer yellow marble is yellow marble tiles,we are manufacturer & wholesaler of jaisalmer yellow marble in jaisalmer Rajasthan india,jaisalmer yellow marble is best flooring and countertop  of washbasin,aisalmer Yellow Marble is loved by homeowners and architects for its natural yellow-orange texture. It comes up in stunning shades making it a classy choice for home and office. Let us find how it is formed – it is a metamorphic rock that is formed due to change in limestone or dolomite over a period of time. The texture depends on the chemical constituents, size and uniformity of grains.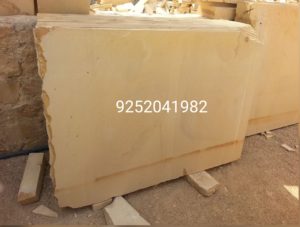 Jaisalmer yellow marble
Apart from the wonderful texture, the quality that makes Jaisalmer Yellow  Stone stand apart is resistance to water and durability. They are ideal for living room, dining hall, bathrooms, fireplaces and entryways. Jaisalmer Yellow Stone are quarried from mines located in Jaisalmer, Rajasthan, it is the reason it is also called Desert Gold Marble. Get them today to have a stunning looking interior and exterior flooring
Features:
Stone type- yellow lime stone
Color – yellow
Uses – interior flooring & wall cladding
Price Rang – 45/-sq.ft. upto 85/-sq.ft.
Thickness – 18mm
Surface – unpolished & fully polished
Minimun quantity order – 5000 sq.ft.
Stone form – slab size -big & small slab
Quality – Etta gold, mulsagar,supari gold, jaisalmer yellow & teak wood
Gst – 18%
Loading – 250/-tone
Weight per sq.ft. – 5.50kg /-sq.ft.